Best Overall
Fitbit Versa 2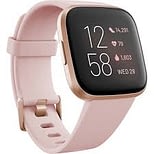 8.8 oz
6 days
Yes
Up to 50 meters
PROS
Female health tracking

Alexa

6-day battery
CONS
Connected GPS

Does not support Apple Health or Google Fit
Best Budget
Fitbit Inspire HR

1.6 oz
5 days
No
Up to 50 meters
PROS
Won't break the bank

Lightweight

Tracks heart rate and sleep
CONS
No in-built GPS

No Fitbit Pay
Premium Pick
Fitbit Ionic
10.4 oz
4 days
Yes
Up to 50 meters?
PROS
In-built GPS

Female Health Tracking

NFC payment
CONS
Expensive

Slow operating system
Fitbit has been one of the most famous brands for smartwatches. It is also renowned for the feminine touch it adds to some of its products. For example, aside from the fantastic features, most of its smartwatches have the female tracking feature, which is made especially for women. It helps them track their period and keep an eye on their health.
Besides this feature, it also has GPS, heart rate tracking and sleep tracking, music storage, and allows you to pay on the go.
Since there are a lot of great Fitbit smartwatches, we will help you pick the best Fitbit for women. In this article, you will find some of the best Fitbits, along with other relevant information and questions.
Top Picks:
The 5 Best Fitbits For Women in 2020
1. Fitbit Versa 2 – Best Overall
Fitbit Versa 2 caters to different wrist sizes as it features the small size (5.5″-7.1″), and the large one ( 7.1″-8.7″). It has a 300 x 300 pixel AMOLED touch screen. Moreover, you will love its 44mm square-shaped dial, and the many strap colours it offers because that way, you can change between them according to your outfit and mood.
Because Fitbit knows how busy a woman can be, Fitbit Versa 2 has an ambient light sensor, so its brightness is automatically adjusted without needing your interference. Moreover, its always-on display mode is extra helpful because you don't need to tap it to check anything. This feature has proved to be handy, especially for working women who keep running between meetings.
Besides, one of its distinguishing features is supporting a built-in Alexa! Having your hands full (literally or metaphorically?) No problem! Alexa is there to do whatever you demand. Very considerate of them.
Furthermore, its battery could stay alive for about 6 days on a single charge! You can also get texts, calls, and notifications on it when your phone is nearby.
Because Fitbit Knows that busy people tend to forget, they have made a smartwatch that supports NFC payment. You could comfortably leave your wallet at home and pay from your wrists.
Being 100% female-oriented, Fitbit Versa 2 has the female health tracking feature, so you can keep track of your menstrual cycle, and keep an eye on your overall health. It seems like they genuinely care about your health because there is also a sleep tracking and a heart rate tracking feature.
Moreover, it can count the burnt calories and the floors you have climbed.
Since there is a high probability that you would love listening to music while you are exercising, it does not only allow you to control Spotify and Deezer but also lets you listen and download up to 300 songs.
Since nothing is perfect, it lacks an in-built GPS. That is to say that you must connect it to your smartphone if you need to use the GPS. It is not a huge drawback, though.
Pros:
Female health tracking
Alexa
6-day battery
Fitbit Pay
Always-on display
Cons:
Connected GPS
Does not support Apple Health or Google Fit
Bottom Line
If you are a busy woman who appreciates sparing some minutes, the best overall Fitbit for women, the Fitbit Versa 2, is the one for you. Plus, it provides health tracking and fitness tracking with a battery that lasts for about a week.
2. Fitbit Ionic – Best Smartwatch for Fitness Lovers
Women with all wrist sizes will find what suits them with Fitbit Ionic's various wrist sizes where its small wrist size is 5.5″-6.7″ and the large one is 6.7″-8.1″. It has a coloured LCD touchscreen of 348 x 250 pixels. It also has three buttons where you can press any of them or tap anywhere on the screen to wake it up. The screen sleeps whenever not in use to save the battery's life that can stay on a single charge for over 4 days.
This is the only Fitbit on our list that features an in-built GPS, so you don't need to take your phone with you. It counts the number of steps you climb and shows you your pace and distance. Fitbit Ionic also boosts a heart rate and sleep tracker, so it is kind of an all-in-one smartwatch.
As for female-oriented features, it has the female health tracking option so that you can keep an eye on your period and overall in-body changes.
Fitness-wise, thanks to its personalized workouts and coaching, you will feel as if you have your personal coach with you at all times so that you can reach your goals. And because music makes everything better, Fitbit Ionic allows you to access Pandora and store and play over 300 songs.
Furthermore, you can use NFC payments to make payments on the go without having to have any cash on you all the time.
Fitbit Ionic is excellent for swimmers or walk-under-the-rain type of people since it is water-resistant down to 50 meters (150 feet).
You can also access your favourite apps on it.
Pros:
In-built GPS
Water-resistant
Female Health Tracking
4+ days battery
NFC payment
Cons:
Expensive
Slow operating system
Bottom Line
Featuring an in-built GPS, having female health tracking as well as accurately tracking your heart rate and sleep, makes Fitbit Ionic one of the best Fitbit for women on the market.
3. Fitbit Charge 3 – Excellent Battery Life
Fitbit Charge 3 has a small wristband that is suitable for wrists between 5.5 to 7.1-inches, and a large wristband that fits a wrist between 7.1 to 8.7 inches. It has an 18.33 mm OLED touchscreen with 100 × 150 pixels.
This is a smartwatch for people who truly hate charging the batteries, as it has a battery that lasts for 7 days. This is the longest battery life span of all the smartwatches on the market.
Fitness-wise, it supports 15 exercise modes, including running, swimming, biking, yoga, and so on. As for swimming, it resists water up to 50 meters, so you can take it with you in the pool, under the rain, while showering, etc.
Besides, it is one of the best swatches for people who easily get anxious because it features personalized guided breathing sessions based on your heart rate to help you get calm. It is apparent that it tracks your heart rate, but it also has a sleep tracking feature and records the time you spend in each sleep stage.
Like the Fitbit Versa 2 and the Fitbit Ionic, it also features the female tracking feature, which is excellent for women who love to keep track of their menstrual cycle, and so on.
You will also receive weather notifications and receive texts and calls. You can even reply to texts, but this is only available for Android users.
Pros:
Longest battery life
Female health tracking
Heart rate tracking
Sleep tracking
Water-resistant
Cons:
Lacks an in-built GPS
No music storage
Bottom Line
This is yet another excellent smartwatch that has the female tracking feature. It is especially remarkable for its 7-day battery.
4. Fitbit Inspire HR – Most Lightweight Fitbit
Coming in many colours, the Fitbit Inspire HR will be suitable for every occasion. It has a sharp and bright monochrome OLED screen with a resolution of 128 x 72 pixels.
Like the above smartwatches, it can track your heart rate and your sleeping pattern. It uses the data of your heart rate to give you information on your sleeping pattern. Moreover, it can track your steps and count how many calories you've burned, which motivates you to reach your body goal.
Moreover, since it knows how necessary fitness is to most women, it has 15 goal-based exercise modes, so you can choose the exercises you feel like doing at any given time.
Like Fitbit Charge 3, it is suitable for swimmers as it is water-resistant up to 50 meters. However, make sure not to use it in hot places like the sauna. It also records your workouts.
You can also use this 5-day battery smartwatch to receive texts, calls, and calendar alerts and notifications. While 5 days is not a lot compared to other Fitbit smartwatches, its fast charging (turns from 0% to 100% in two hours) makes up for it.
However, what we don't like about it is that it does not feature female health-tracking, nor an in-built GPS. You have to have your phone with you if you need GPS. Moreover, you must have cash on you because it does not support Fitbit Pay.
Pros:
Won't break the bank
Lightweight
Tracks heart rate and sleep
Fast charging
Long battery life
Cons:
No in-built GPS
No Fitbit Pay
Bottom Line
At this budget-friendly price, this is the best Fitbit for women if you are looking for one with exercise modes, heart rate tracking, and sleep tracking features.
5. Fitbit Versa Lite – Best Basic Fitbit
Like the Fitbit Versa, Fitbit Versa Lite has a 300 x 300-pixel resolution touch screen with clear and crisp images. It also has Gorilla Glass 3 glass, which makes it scratch-proof and durable.
Similar to the Fitbit Inspire HR, it offers many faces, so it suits many tastes. Besides, it is light and slim with a small size of 5.5″-7.1″ and big sizes of 7.1″-8.7″.
Quiet as the Fitbit Ionic, its battery lasts for 4 days. It is also water-resistant up to 50 meters, so it is helpful for swimmers and people who always forget to take their watches off before showering.
Besides, like some of the above smartwatches, it has 15 exercise modes, so it is a nice fitness-wise. It also analyzes your sleep and tracks your heart rate.
Moreover, it lets you connect with your loved one and with the world as it accepts texts and gets phone calls, provided that your phone is nearby. If you are an Android user, you will be able to send quick replies through it as well.
Unlike Fitbit Versa 2, it does not have female health-tracking, Fitbit Pay, or Alexa. It also requires you to be connected to your smartphone if you need GPS.
Pros:
Heart rate tracking
Sleep tracking
Nice design
Excellent battery life
Cons:
Does not track swimming
In-built GPS
Does not store music
Bottom Line
If you are okay with having a smartwatch that does not allow you to pay on the go, or store music, this is the one. At a reasonable price, it offers excellent features. However, note that it does not have a female health tracking feature.
How Shall a Woman Pick a Fitbit
1. Battery Life
Having a smartwatch that has a battery with a short lifespan is not something anyone likes. Having your smartwatch die at the time you need the most is so frustrating.
Luckily, the Fitbit smartwatches on our list last for at least 4 days.
2. Female Health Tracking
Since we write this article with women in our mind, we must mention the female health tracking feature. It is an in-app experience that allows you to keep track of your menstrual cycle and symptoms.
It is a beneficial feature as it lets you notice if any unusual things are going on in your body since we know that the menstrual cycle is related to a lot of health issues.
3. GPS
Some smartwatches have an in-built GPS, while others have a connected one. What is the difference? Well, if the smartwatch has a built-in GPS, this means that you don't have to have your phone with you wherever you go.
On the other hand, the other type of smartwatches must be connected to your smartphone for you to access the GPS function. This is not necessarily a turnoff, but it is to some people.
On this list, only the Fitbit Ionic comes with a built-in GPS.
4. Sleep Tracking
If you need a smartwatch to help you understand your sleeping pattern and better your mental and physical health, get one that supports sleep tracking.
5. Heart Rate Tracking
From my point of view, the heart tracking feature is such a crucial feature to have. It helps you keep an eye on your heart rate as well as boosts the accuracy of sleep detection.
6. Compatibility
It is vital to make sure that the smartwatch you buy is compatible with your smartphone. Like we have mentioned, if your smartwatch has a connected GPS feature, how would you connect to your smartphone if it is not compatible with it?
7. On-The-Go Payment
If you tend to forget your wallet, or if you just love going on runs without having to carry your wallet, an NFC-supporting smartwatch is there for you. Some Fitbit smartwatches support NFC payment, which means that you can pay through your wrist by entering your card details information in the watch.
Frequently Asked Questions:
How Can a Woman Choose the Size of Her Fitbit?
Fitbits come in three main wrist sizes: small (5.5″-6.7″), large (6.7″-8.1″), and x-large (8.1″-9.3″). You can use the sizing guide of Fitbit to make sure you are buying a suitable size for you.
What Is Female Health Tracking?
It is an in-app feature that allows the woman to enter the date of her period, her symptoms, and so to keep track of her period.
It is beneficial as it tells you when to expect your next cycle, points to your ovulation days, the time you are fertile, etc.
To What Extent Is the Period Tracker Accurate?
If you log your cycle consistently, you will get more personalized predictions. So it depends on you.
Are All Smartwatches the Same?
No. just like smartphones, different smartwatches offer different features and functions. Some are fitness-oriented, others are health-oriented, etc.
Final Thoughts
Found the best Fitbit for women yet? We like to think that you did. However, in case you are still confused, here is a quick recap.
If having a smartwatch that features female health tracking is your priority, go for Fitbit Versa 2, Fitbit Ionic, or Fitbit Charge 3. Moreover, the three of them feature Fitbit Pay; however, if you need Fitbit Pay on the Fitbit Charge 3, get the special edition.
Each of these has its impressive features. For example, the Fitbit Charge 3 is the only one that has a battery that lasts for 7 days. While Fitbit Versa 2 features Alexa and an always-on display. If having an in-built GPS is essential for you, you have no other option but the amazing Fitbit Ionic.
If you need a basic smartwatch, then it is Fitbit Versa Lite, and if you are on a tight budget, go for the Fitbit Inspire HR.