If you're planning to change your Fitbit device or to purchase a new Fitbit for 2020, you're probably overwhelmed by the range of choices you have.
However, this article will give you the best suggestions and help you pick the best Fitbit 2020 according to your needs and use.
The 7 Best Fitbit in 2020
1. Fitbit Charge 3 – The Best New Fitbit for 2020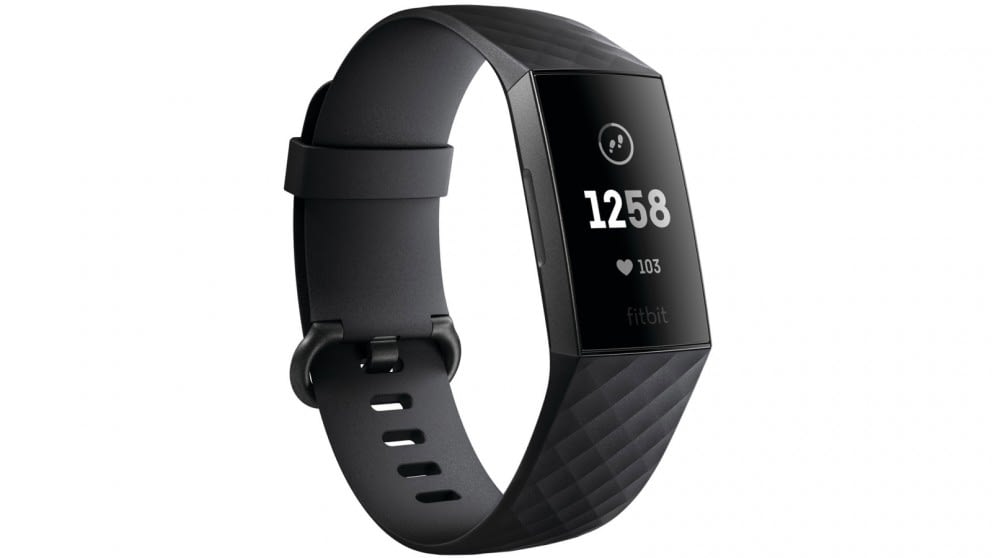 Looking a lot like the Charge 2 but with a lot more improvements, you can get the Charge 3 in a woven material (black or blue) or a special edition of a perforated sports band (white or lavender).
Its screen supports not only black and white but also grayscale colors and is 40% bigger in size.
It's also made durable by being treated with Corning Gorilla Glass 3 and has an aluminum body that resistsb damage.It has continuous heart-rate monitoring and resists water up to 165 feet. Although it lacks built-in GPS, it can be connected to a phone for GPS services to get a route of your walk or run through the Fitbit App.It has multi-sport tracking and SmartTrack to automatically detect and log various workouts and activities, cardio fitness level and heart-rate monitoring to give you a solid background on how well your heart is functioning, and it keeps track of your calories burned and floors climbed throughout the day.The Charge 3 also comes with a SpO2 sensor that detects the amount of oxygen in your blood which indicates how effectively you're breathing, how well your blood is being transported over your body, and how athletic you are.The Fitbit Charge 3 motivates you to reach an hourly goal of 250 steps by sending you reminders to move.
It also delivers your call, text, and smartphone notifications on its screen and allows you to respond through the Quick Replies feature as well as calendar alerts to remind you of any important upcoming events. With the special edition, you'll enjoy not worrying about forgetting your wallet behind as you can make online payments thanks to the NFC chip.It also has sleep tracking with the 3 stages: deep, light, and REM to tell you all about the duration and quality of your sleep as well as guided breathing sessions reduce stress levels by regulating your breath.
It also has guided breathing sessions to help reduce stress levels and its battery can last you the whole week on a single charge.
Final Thoughts:
The Fitbit company has done a great job at using their expertise in combining the superb fitness features with an affordable price on the Charge 3.
PROS
Designed to be light
Better clasp along with other physical improvements
Better battery life
CONS
Doesn't give you a lot of choices for the clock face
Depends solely on the touchscreen for operation
2. Fitbit Versa – Best Fitbit Smartwatch 2020
The Fitbit Versa has a nice look to it that indicates its high-tech performance and its great fitness tracking. Its display is a 1.34-inch colorful and interactive touchscreen with an excellent 300 x 300-pixel resolution. It keeps a continuous log of your steps taken, calories burned, and floors climbed, as well as general activity tracking. Its activity tracking is quite extensive as it has multi-sport tracking which enables it to detect different kinds of activity like running, dancing, hiking, and other sports like basketball and tennis.
It also has SmartTrack which allows you to select certain exercises to be recognized and logged automatically. Furthermore, it has swim-tracking features which show swim metrics when you dive in the sea or the pool as it's water-resistant up to 5 ATM (165 feet).The Fitbit Versa focuses on your heart's health through its active heart-rate monitoring and its cardio fitness level features. It also motivates you to complete an hourly goal of 250 steps through its reminders to move.
Moreover, it has on-screen personalized coaching which explains to you all the right techniques to do your workouts and makes you feel like you have a personal coach everywhere you go.The lack of the built-in GPS is compensated by the fact that you can connect your Versa to your phone for GPS services and thereby get a map of your walk or run.The Fitbit Versa also has sleep-tracking features which measure how long you spent asleep in general, and how long you spent in each sleep stage specifically (REM, light, and deep), which gives you a solid idea concerning the quality of your sleep.Guided breathing sessions have your back when it comes to regulating breath in order to reduce stress levels and anxiety.
And if you're a female, you're going to make a lot of use from the female health tracking feature which encourages you to track your menstruation cycle and gives you alert 2 or 3 days before your period is expected, as well as indicate the days on which you're expected to be ovulating.The Fitbit Versa delivers call, text, and smartphone app notifications on its screen as well as allows you to send quick responses via Quick Replies.
It has a variety of available apps and music storage to make your workouts more fun and engaging. You can also control the music by playing and pausing, turning the volume up or down, and skipping the song all from your watch.
With the NFC chip, you get to make online payments through your watch, which means you can safely leave your wallet behind.All of these features are delivered to you on the course of 4 days on a single charge, which is pretty good when you consider all the things it has to offer.
The Fitbit Versa is probably the best value for the money smartwatch & fitness tracker you can get. When it comes to fitness features, it's truly superb and offers an extensive variety of them. It also has great smart features that accentuate the fitness ones.
PROS
Extremely lightweight
Long battery life
CONS
3. Fitbit Alta HR – Best Value Fitbit in 2020
Throughout your day, the Alta HR will keep track of the steps you've taken, general activity, and calories you've burned.The constant heart rate monitoring works with a cardio fitness level feature that uses your heart rate info to provide you with a background on how well your heart is functioning.Sadly, the Alta HR isn't equipped with an altimeter to tell you the number of floors you've climbed through the day, but it makes up for that with the multi-sport tracking and SmartTrack feature that you can use to choose specific activities to be automatically detected and recorded in the app.
It also has features to track swimming activity and display metrics like the stroke used and pace.The sleep tracking feature measures the overall quality of your sleep as well as the duration you've spent in each of the 3 sleep stages: REM, light, and deep. On the other hand, its smart features are kind of limited. But that doesn't stand as a problem if you're only looking for the fitness features on your Fitbit.It's very portable and light as its dimensions are 1.6 x 0.6 x 1.3 inches and its weight is only 0.8 ounces.The Alta HR will send you reminders to move so you can reach the hourly goal of 250 steps and a general activity goal. It also delivers calendar alerts to remind you of any plans you have or upcoming events.
Moreover, it keeps you connected to the world by sending you call, text, and smartphone app notifications.You can customize your Fitbit Alta HR a little with the Fitbit and designer accessories or by changing the face with the customizable clock faces it has to offer.
All in all, an affordable choice that combines between the low-range price and fitness features and delivers great value for the money is the Alta HR. It covers all the basics and goes a step further.
PROS
Detailed sleep tracking
Great battery life
CONS
4. Fitbit Ace – An Excellent Fitbit for Kids
One of the cheapest Fitbit devices you can get is the Fitbit Ace. For its price, it delivers the basic step counting and activity tracking pretty well. It also has sleep measurements to determine the length and quality of your sleep.
However, it doesn't analyze sleep stages.
The silent alarms vibrate with no sound as not to disturb you if you're sleeping or if you're in a meeting. The Ace doesn't have extensive exercise features. Matter of fact, it only delivers reminders to moves in order to motivate you to reach an hourly goal of 250 steps and an overall activity goal.
It gives you info regarding your hourly activity and that's just about it.
The Ace lacks any smart features and just suffices with the basics of activity tracking.You get to customize it to a large degree thanks tot he Fitbit accessories and customizable clock faces. If you're looking to save money and get something that does just the basics, the Ace is a perfect choice.
Bottom line, even though the Fitbit Ace was designed for kids, it can still be used by an adult if they want to get something cheap, offers just the basics, minimalistic, and very highly affordable.
PROS
Very simple design
Highly affordable
CONS
The fitness features are quite limited
Lacks any smart features
5. Fitbit Zip – Best Clip-on Fitness Tracker
The Fitbit Zip is different from all the other Fitbit devices as it's a clip-on and not a wristband. It tracks your steps and activity throughout the day and tells you the time.Sadly, however, the Fitbit Zip doesn't offer much more than that. It also doesn't give you many accessorizing options, but you can choose from a set of colors like charcoal, lime, and magenta.What makes the Fitbit Zip stand out from the other ones is its outstanding battery life that lasts with you up to 6 whole months.The fives modes it has to display are steps, distance, calories burned, clock, and Fitbit Smiley. The latter is used to indicate your general recent activity level.
All in all, If you're into clip-on devices rather than having to wear a band around your wrist all the time and are looking for the basics features only, the Fitbit Zip would be the best choice for you on this list.
PROS
Highly affordable
Solid battery life that lasts 6 months
CONS
Features are very limited
6. Fitbit Flex 2 – Best Fitbit for Beginners 
The Fitbit Flex 2 has a very slim design that makes it blend in nicely with whatever outfit you're wearing. Its dimensions are 0.45 x 10 x 0.37 inches and it weighs only 0.64. You would hardly feel anything on your wrist.
The display is as simple as the design, where it displays a series of flashing dots to show you how far you've gone with your daily progress and how close you are to reaching your daily goals.
Each light represents 20% of your goal and you simply tap the display twice to see how far you've come.
The Fitbit Flex 2 lets you set alarms for any purpose you need and has a motor for vibration to bring your attention to your notifications or alarms when they go off.
Although it lacks multi-sports tracking, it has swim tracking features and automatically records your pool sessions. It displays metrics regarding your laps, duration, and calories burned.
Of course, this means that it's water-proof and that you can safely sweat it out and then hop in the shower without taking it off.
The Flex 2 tracks your sleep including the stages: REM, light, and deep. This serves to inform you about the duration and quality of your sleep.
Its battery life lasts up to 5 days on a single charge. This isn't too bad for its features, but also not the best as it doesn't have built-in GPS or heart rate monitoring.
You will receive your calls and text notifications so you don't miss out on any socializing or any important interactions.
The Flex 2 sends you reminders to move so you can reach an hourly goal of 250 steps. You can also set the reminders according to your personal schedule or to "Do Not Disturb" during appointments and meetings.
Moreover, it stores the detailed motion data of the past 7 days and the daily total for the past 30 days so you can go back and compare your progress.
Final Thoughts:
The basic activity tracking and an awesome swim-tracking feature combined with an affordable price is what you get with the Fitbit Flex 2. It doesn't go deep into activity tracking and it doesn't have a heart rate monitoring, but it's a pretty good deal overall.
PROS
Fun software
Very lightweight
Comfortable to wear
CONS
Battery life is short for the features
Takes a long time to charge
7. Fitbit Blaze – An Affordable Fitbit Watch in 2020
With an all-day activity monitoring feature, multi-sport tracking (including running, biking, lifting weights) and real-time stats on the display, the Fitbit Blaze really has you covered.
It also keeps track of the number of steps you've taken, calories you've burned, the distance you've walked, and floors you've climbed throughout the day.Sleep-tracking provides you with info about your sleep's duration and quality, although it doesn't go into the details of the sleep stages.It has a 24/7 heart-rate monitoring sensor which provides you with info about your heart rate and VO2 max that tells you the maximum amount of oxygen you can burn.
The PurePulse heart rate technology gives you further details about your heart's health and info about your heart rate zones.
These zones help you form an idea regarding how fast your heart beats at both a resting rate and during exercise. Furthermore, the Cardio Fitness Level feature helps you understand where your athletic performance lies with a score that is personalized just for you.
It does lack a built-in GPS service, but it can be connected to a phone for GPS to get a route of your walk or run. The workout summaries saved on the app help you see how much you've improved over time.Fitbit Blaze's guided breathing sessions help you regulate your breath to reduce anxiety and stress levels. The on-screen workouts guide you through the right techniques of performing each one.
And finally, the reminders to move encourage you to reach an hourly goal of 250 steps and a general, daily step goal.It enables you to control your music's volume, skip songs, play or pause the songs right from your wrist. You can also sync the stats from your Blaze to any compatible iOS, Android, or Windows devices.The Blaze delivers your caller ID, text, and calendar notifications and push notifications from your apps. It's not swim-proof but it's splash-resistant so it's okay if you sweat or walk with your Blaze exposed on a rainy day.Its battery lasts up to 5 days on a single USB charge.
Final Verdict:
The Fitbit Blaze is one of the mid-range budget Fitbit devices but its performance, accurate sensors, and features are pretty solid. It's a true bang for your buck.
PROS
​Affordable price
Battery life is acceptable compared to the features
Great fitness features
Highly accurate sensors
CONS
Not waterproof
The response of the display can be a bit slow
Which Is The Best Fitbit Band Overall in 2020?
If you're not restricted by a budget and want to have all the features you can get out of a Fitbit device, you should go for the Fitbit Versa.
A mid-budget choice that combines between the affordability and the diversified features perfectly is the new Charge 3.
The best low-budget Fitbit that gives you the basics is the Alta HR.
The Zip would be the best choice for you if you don't want a wristband and are looking for the longest battery life.
However, different choices focus on different purposes, so it all goes back to what you're looking for when you're buying your new Fitbit tracker.