Google's Pixel 2 is a great smartphone with amazing features that can be utilized if connected to a smartwatch.
With all the choices on the market, which smartwatch would be the best purchase?
In this article, we'll list some of the best smartwatches for Pixel 2 and Pixel 2 XL too.
The 4 Best Smartwatches for Pixel 2 and Pixel 2 XL
1. Garmin Fenix 5 – The Best Smartwatch for Pixel 2 Overall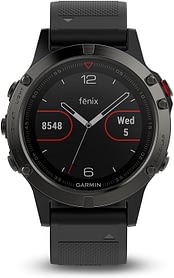 The Garmin Fenix 5 comes at 1.9 x 0.6 x 1.9 inches in size and 12 ounces of weight. It's made of plastic, which makes it relatively less durable, and its band is made of silicone. You can get the better sapphire version though.
The 1.2-inch display is a colorful one with a 240 x 240-pixel resolution. It gives you great visibility even in bright sunlight and works great on low power mode.
Your heart-rate stats are always logged and you get alerts to notify you if your heart rate falls below or rises above a specific range you set as a target zone. These zones also indicate which heart rates burn fats most efficiently for you. You can broadcast this data over ANT+ to all paired devices, too.
Besides the 24/7 heart-rate monitoring, the Fenix 5 has a VO2 max sensor to measure the levels of oxygen in your blood to give you an idea about how athletic you are. It also has a stress and recovery advisor.
It keeps track of various activities such as steps taken, distance moved, and calories burned. The multi-sport tracking also includes running features like a virtual pacer, VO2 max estimate, a recovery advisor, a race predictor, running dynamics. It motivates you to workouts indoors by providing calculations for indoor workouts, personal records, and a virtual partner or racer.
Furthermore, it's swim-proof and water resistant up to 10 ATM. It has swim-tracking info like lengths, distance, pace, stroke count and rate, and stroke type which is automatically identified. It also has swimming workouts and displays swim metrics for them.
The Fenix 5 receives call, text, reminders, and calendar events' notifications from your phone. It has GPS services that when you connect to the Garmin Connect app, send you a map of your route with distance, time, and pace.
Garmin integrated sleep tracking measurements in its Fenix 5 where the duration you spent in each sleeping phase (REM, light, and deep) is logged to give you info about the quality of your sleep.
You simply set your usual sleep hours on the Garmin Connect app and the tracker detects your sleep patterns automatically after that.
Its battery life lasts up to 2 whole weeks on smartwatch mode, but only 24 hours on GPS mode. The UltraTrac battery saver mode is a nice addition though as it extends the battery life up to 75 hours on GPS mode.
The Fenix 5 has both Bluetooth and WiFi. You can control your music through it, and use the "Find My Phone" feature in case you misplaced it. It also tracks physiological measurements such as stress score, performance condition, and lactate threshold.
Check out our best smartwatches in the market list.
Our Thoughts:
The Garmin Fenix 5 is admittedly the most pricey option on this list, but it's also one of the best smartwatches that are compatible with Google's Pixel 2. Its battery life is superb, and one of the longest you can find and it provides you with more or less all the health, fitness, and smart features you can ask for.
PROS
Water-proof with swimming workouts and metrics
Long battery life
Great combination between fitness and smart features
CONS
No built-in music storage
No NFC chip for payments
2. Samsung Gear Sport – Best Android Smartwatch for Pixel 2
With the Samsung Gear Sport, you get constant heart-rate monitoring and GPS services. It automatically records the calories you've burned throughout the day and shows you a summary of your daily progress.
The on-screen coaching is a nice touch that adds a sense of personalization into your workouts, besides providing you with motivation and helpful instructions and guidance on how to do your workouts.
You can pair your Samsung Gear Sport with any smartphone that runs Android OS 4.4 and later with 1.5 GB of RAM, which means you can use it with your Google Pixel 2.
Being water-resistant up to 50 meters allows you to swim, shower, and walk in the rain without worrying about it.
One of its most redeeming features is that you can use it to control compatible smart devices (including smartphones, lights, door locks, and TVs) with just the turn of the bezel.
The NFC compatibility enables you to make online payments with your Samsung Gear Sport via Samsung Pay. It also gives you access to a variety of apps so you can check scores, catch rides, and download music. It also delivers your call and text notifications and displays your calendar events to remind you of any upcoming ones.
You can enjoy your Samsung Gear Sport's functionality for about 3 days on a single charge, and its charging process is made smooth thanks to the wireless charging dock.
All in all, The Samsung Gear Sport works great with Google Pixel 2 as they both operate on Android operating systems. The features it delivers are great when you consider the price, which makes it good value for the money.
PROS
Sleek design
Great performance of Samsung health
Lets you play offline music from Spotify
CONS
GPS isn't the most accurate
Activity tracking could be off-base
3. Ticwatch E – The Best Budget Smartwatch for Pixel 2 XL
The Ticwatch E comes with a variety of features including continuous heart-rate tracking, built-in PPG sensor, and six heart-rate intervals data.
Its built-in GPS and GLONASS give you in real time info like steps taken, distance traveled, calories burned, and speed and let you map out your walk or run. There is also independent navigation designed for running and cycling.
It has an IP67 rating, which means it's water and dust resistant, so it can endure heavy workouts where you sweat a lot. It is not suitable for submersion, however, as it isn't swim-proof.
The Ticwatch E allows you to customize your watch to match your preferences with the interchangeable watch bands and the various customized watch faces that you can get from the Google Play Store.
You can play music directly from your Ticwatch E without needing a phone, which makes it the perfect companion during runs. It also gives you a variety of apps to choose from. This includes fitness apps like Google Fit and Strava.
On your Pixel 2 (as it runs on an Android operating system), the Ticwatch E will deliver notifications of incoming calls, messages, news, and e-mails. It will also enable you to receive and make calls as well as reply to messages directly from your wrist.
All in all, The Ticwatch E is a very budget-friendly choice when it comes to a smartwatch that will be compatible with your Google Pixel 2.
It doesn't have the most extensive features, but it has the basics that can satisfy you whether you're looking for fitness or smart features.
PROS
Lightweight design
Stylish look
Music storage
Highly customizable
CONS
4. Fitbit Versa – Best Pixel 2 Smartwatch for Fitness Features
The Versa flaunts a 1.34-inch display with a colorful, interactive, touchscreen with a 300 x 300-pixel resolution with a 1.5 x 0.44 x 1.5-inches size. It works superbly as a fitness tracker, although it's not as jam-packed with smart features.
It logs the steps you've taken, various activities. the number of calories you've burned and the number of floors you've climbed.
The Versa has extensive tracking thanks to its multi-sport tracking which is able to detect various movements like dancing, running and hiking and SmartTrack which enables you to select some workouts to be automatically detected and logged.
It also has heart-rate monitoring and Cardio Fitness level to combine together to give you a solid background on your heart's wellbeing, while guided breathing sessions work on reducing your anxiety and stress levels by regulating your breath and heartbeats.
It works on motivating you by giving you reminders to move so you can reach an hourly goal of 250 steps and a general daily goal. Not only that, but it also has personalized on-screen coaching that makes you feel like you have a personal coach with you at all times.
You can make up for the lack of GPS by connecting your watch to your phone to get a map of your route.
It also gives you sleep-tracking measurements to log the duration and quality of your sleep, and how long you spent in each sleep stage (light, REM, and deep).
It resists water up to 50 meters and has swim-tracking features so you can take a dip in the sea or the pool without having to take it off.
The female-health tracking is also a very great feature as it keeps track of your menstruation cycle and notifies you when your period is expected to start and on which days you're ovulating.
Read more: Gadget Decision's top choices for Women's smartwatches.
The Fitbit Versa offers you a numerous choice of apps, music storage that allows you to play your songs directly from your watch to make your workouts more lively, as well as control your music's volume, pause and play, or skip. It has NFC capabilities to allow you to make electronic payments.
It delivers you text, call, and smart app notifications on your screen as well as reply to texts with "Quick Replies".
The Fitbit Versa can function for 4 days on a single charge.
Our Thoughts:
The Fitbit Versa is the ultimate choice when it comes to fitness-tracking at an affordable price. Its smart features aren't what make it a great purchase, but they're still satisfactory.
PROS
Very portable and lightweight
Excellent value for the money
Diversified health and fitness features
CONS
Lacks built-in GPS
Not the most stylish choice
Which Is The Best Smartwatch for Google's Pixel 2 Overall?
Bottom line, the fact that Google's Pixel 2 runs on Android operating system makes it best compatible with Android smartwatches, and one of the best that runs nicely with it is the Garmin Fenix 5.
Although it may be a little pricey, its features are quite out of the box and very helpful in their variety. If you're looking to save money and buy something that provides you with the general basics of smartwatches, you should go for the Ticwatch E.