We would like to share with you the best smartwatches 2020, and which can help you make the best out of 2020 in fitness terms.
There have been many releases and many products, but we've handpicked the best of the best, and in this article, we'll list them so that you pick the one that suits you the most.
The 7 Best Smartwatches in 2020
1. Samsung Galaxy Watch – The Best Smartwatch in 2020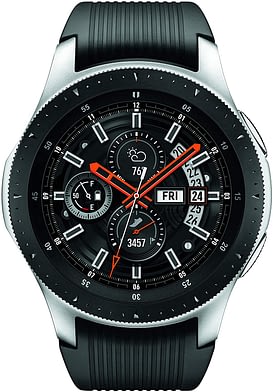 With an attractive rubber strap, the Samsung Galaxy Watch has more of a sporty look. It fits two sizes. The first is 1.8 x 1.9 x 0.5 inches that weighs 2.2 ounces. Its display is 1.3 inches.
The second is 1.6 x 1.7 x 0.5 inches that weighs 1.7 ounces. Its display is 1.2 inches. Although they come in different sizes, they both have the same smooth circular shape that seems convenient to the sporty-air of the watch, have a super AMOLED and flaunt a 360 x 360-pixel display.
Their screens are also treated by Corning Gorilla Glass DX+ that makes them resist shocks and scratches and have a full-color display that makes them easy to use and read.
The first model is available in black, blue, and silver while the second is available in black, purple, silver, red, yellow, pink, grey, and brown.
The Samsung Galaxy Watch is water-resistant up to 5 ATM (50 meters, or about 165 feet). This means you can wear it out in the rain, or while you're taking a dip in a pool or ocean, or when you're taking a shower.
The Samsung Galaxy Watch automatically measures your heart rate along 6 different types of activities which can be extended to 39+ kinds of exercises.
This means that you will get a thorough tracking of all the activities you do and that you will be able to jump from one activity to another without setting anything up.
Besides that, it also keeps count of the calories you've burned, and the floors you've climbed thanks to the built-in altimeter. The GPS and barometer work together to let you know where you are and where you're going.
The Samsung Galaxy Watch keeps a log of the duration and quality of your sleep. It has an exceptional 4-stage sleep measurement tool that extends the accuracy of these readings.
It also has guided breathing sessions that work on reducing stress and anxiety levels while keeping a close eye on their levels to deliver the best help at the right time.
A feature exclusive to the Samsung Galaxy Watch is the "My Day" watch face that shows you a summary of the things you have planned ahead for the next 10 hours in a quick glance.
Read More: Fitbit Versa or Galaxy Watch – Which Smartwatch is Better?
You can also connect to the various apps available on the watch like Spotify, Uber, Strava, Glympse and more to facilitate any daily tasks. More comfort is provided with the ability to make purchases and payments online thanks to the NFC Samsung Pay feature.
Another feature that distinguishes the Samsung Galaxy Watch from any other option is that it enables you to turn it into a home automation hub where it takes control of your appliances and devices according to your sleep patterns and daily activity.
You can control TVs, vacuum cleaners, air conditioners, and more devices through its Home IoT (Internet of Things) function.
You'll get up to 3 days of functionality on the 270-mAh model and up to 4 days on the 427-mAh model.
All in all, the Samsung Galaxy Watch is an overall affordable smartwatch. It has plenty of different features: health, fitness, and smart ones. It's one of the best value for the money deals you can get.
PROS
New IoT function is available
My Day feature that summarizes your schedule
The versatility of tracking functions
CONS
2. Apple Watch Series 4 – The Best iOS Smartwatch in 2020
A challenge that faces any smartwatch manufacturer is making the display bigger without increasing the size of the case too much or decreasing battery life.
The Apple Watch Series 4 has successfully overcome that challenge by producing a watch with narrower borders that still gives you a viewing area that's over 30% larger than other models.
Its new LTPO display technology makes it more power-efficient and gets you through the day (18 hours of battery life) on a single charge.
The curved corners of the Apple Watch Series 4 are suitable with the radius of the case and help extend the enjoyable touch surface as far as it can go from one end of the display to the other.
The 40 mm model flaunts a display of 1.17 inches and the 44 mm one has a 1.5-inch display.
Every millimeter of this area will display valuable info to you, precisely up to 8 complications, which means you can see and do more at a single glance.
This is thanks to the various infograph watch faces. The first displays an index for Air Quality, Ultra violet rays, Heart Rate, Activity, Music, Workout, Breathe, and weather. The second displays the Date, Activity, Breathe, Music, Weather, and Heart Rate.
The third displays Stop Watch, Alarm, World Clock, Timer, and Sunrise/Sunset.
The fourth and fifth combine between the aforementioned info, plus Solar, Earth, and Moon. Apple also claims that the Series 4 can detect if you've fallen down and are unable to get back up, besides having Emergency SOS.
The Apple Watch Series 4 can automatically detect your different workouts. It has new yoga and hiking workouts, too. And to keep track of your progress, it displays up to 5 metrics at once. It also makes sure to give you enough motivation to close your Activity rings on a daily basis.
This includes head-to-head competitions, activity-sharing with friends, personalized coaching, monthly challenges, and achievement rewards.
The Apple Watch Series 4 is equipped with a Digital Crown that was invented to facilitate navigation through the Apple Watch without obstructing the display. The whole mechanism was reconfigured where the current Haptic feedback delivers an accurate, click-like experience as you scroll.
Even though the whole assembly of the Digital Crown is 30% smaller, it includes 21% more components.
The Apple Watch Series 4 features both an Electrical and Optical heart sensor. Heart-rate tracking keeps an eye on your heart's activity as well as detects if there are any rises above or falls below a specific threshold for more than 10 minutes.
This causes the watch to trigger a heart rate notification that enables you to take precautionary procedures and make sure your blood circulation goes back to normal levels.
The feature that makes the Apple Watch Series 4 stand out is the new, upgraded S4 chip. It's not just a processor, more of a System in Package (SiP), with the entirety of the system fit into a single component.
This enables the Apple Watch Series 4 to pack so much technology in a very compact space. It is a pioneer when it comes to running entirely on a SiP technology.
The fourth generation CPU is twice as fast as rival processors, where its apps open quicker and its performance's speed is boosted immensely.
Its built-in speaker is 50% louder, larger, and more powerful. This enhances the sound for Walkie-Talkie. While clearer phone calls are delivered thanks to the relocation of the microphone to the opposite side to reduce echoes.
The Apple Watch Series 4 is water-resistant up to 50 meters, which means you can freely wear it in the rain, while swimming, or when taking showers without having to worry about ruining its system.
The aluminum model of the Apple Watch Series 4 comes in silver, gold, and space gray while the stainless steel one comes in silver, space black, and gold.
Our Thoughts:
The Apple Watch Series 4 keeps the basics of Apple's brilliance and adds to it. From the new, larger display, the S4 chip to the sleek, curved corners, there's nothing that Apple doesn't improve. It keeps the originality of the product but with a more powerful presence.
PROS
Upgraded S4 chip
Super-fast processing
SiP (System in Package) technology
CONS
Very limited battery life
Quite pricey
3. Fitbit Versa – Best Fitbit Smartwatch in 2020
The Fitbit Versa –at face value- seems like the perfectly integrated fitness tracker. When you dive in deeper, you'd be glad to find that it also offers a lot of services and has many features that qualify it to be a smartwatch as well.
It keeps track of your step-count, tracks all your activity, shows you the number of calories you've burned and floors you've climbed throughout the day. Whenever you activate it, you can also view the date and time at a glance.
Read more: The 7 Best Fitbit You Can Buy in 2019
Its activity tracking extends to a great extent as it has multi-sport tracking that is able to distinguish between various kinds of sports including running, dancing, hiking, and other sports like football for example.
SmartTrack also allows you to select some activities to be recognized and detected automatically.
It also has heart-rate tracking to always keep you aware of your heart's functionality, and cardio fitness level to give you a general idea concerning your heart's health.
Reminds to move work on making sure you stay on track when it comes to daily steps and a more specific goal of 250 steps each hour.
The Fitbit Versa also offers you personalized on-screen coaching which makes you feel like you have a personal trainer with you at all times.
Indeed, it lacks built-in GPS services, but you can connect it to your phone for that function and get a map of your walk/run.
The Fitbit Versa also has sleep-tracking features that track the overall duration and quality of your sleep, as well as how long you've spent in each sleep stage (light, deep, and REM).
It has swim-tracking features and being swim-proof enables you to take a dip in the pool, go swimming in the sea, wear it out in the rain, or even take a shower without having to take it off as it's water-resistant up to 50 meters.
The Versa also doesn't neglect your mental health by giving you the freedom to release stress and reduce anxiety through guided breathing sessions.
The female health tracking feature is also a great addition that is exclusive to Fitbit. It's very helpful when it comes to tracking periods, and it gives you a fully-detailed chart of your cycle so you can tell on which days you're ovulating and when your period is expected. The Versa also sends you notifications concerning all of this info.
Its 1.34-inch colorful, interactive touchscreen has a superb 300 x 300-pixel resolution which enhances the display of your fitness stats and general visuals.
Its battery will make the Versa function for 4 days on a single charge, which is quite satisfactory for the number of features it delivers per day.
You will receive your call and text notifications on the screen, as well as have the ability to quickly respond through the "Quick Replies" feature without having to take your phone out.
It has a lot of phone apps and music storage to improve the quality of your workouts, walks, or runs. The music can be paused and played through the watch, and you can also turn the volume up or down as well as skip songs.
With the NFC chip, you can make electronic payments through your Versa.
The 1.5 x 0.44 x 1.5-inch watch is available in black, peach, and gray. You can also get a special edition model in charcoal woven or rose gold plated styles for an extra 30 dollars.
Final words, the Fitbit Versa is a budget smartwatch but it will surely get the job done with its superb fitness features, it is a great device to obtain and add to your sport gear.
PROS
Lightweight design
Very affordable for the features
Female-health tracking
CONS
Lacks built-in GPS
Not the most stylish design
4. Fossil Q Venture HR – Best New Smartwatch for Women 2020
The 40mm Venture HR fuses the classic design with the modern technology on a responsive touchscreen. Its rose-gold-tone stainless steel bracelet gives it elegance and its features make it practical.
​The Fossil Q Venture HR gives you activity tracking by tracking your step count and the number of calories you burn. The "HR" in its name refers to the heart rate monitoring feature that it comes with and which measures your heart rate during workouts like yoga or running.You can set custom goals for yourself including more activity or exercise and drinking more water. This helps you track what's most important to you and motivates you to consistently reach those goals. Through alarms, you'll always be up on time and never miss a work-out.You get some space to leave your phone behind with the Fossil Q Venture HR as it allows you to make payments through Google Pay in almost all places where you can use a credit card.
It also has built-in GPS to tell you where you are and where you're going and to track your walking or running route.
Furthermore, you can store your music on it or control the music on your phone's selected player (Spotify, Pandora, SoundCloud, Apple Music) so you have your favorite playlists wherever you go.Being swim-proof means that you can wash your hands, hop in the shower, or take a dip in the pool without worrying about causing damage to your watch.Enjoy conducting a call from your watch or giving it voice commands to do a variety of tasks thanks to the clarity of the built-in microphone.With multiple time zones, you can keep track of your local time as well as in a different part of the world. This is a helpful feature if you keep in contact with a friend or a boss that lives abroad.
It also has automatic time zones. This means that the Venture HR uses GPS to recognize if you've entered a different time zone and automatically sets the date and time to that new local time zone –a top-notch feature for frequent travelers.You get to customize your smartwatch in multiple ways as you can swap your dial to make it match your mood or select watch faces from Facebook or Instagram photos. You can also change its strap with any 18mm watch strap as it's compatible with all of them.You can use Bluetooth to connect your Fossil Q Venture HR to your phone. Once you do, you'll get notifications to all your texts, calls, and apps with a gentle buzz that catches your attention.The Fossil Q Venture HR is compatible with both Android (4.4+ excluding Go edition) and iOS smartphones (9.3+).Although the battery life of the Fossil Q Venture HR isn't the longest, its charging is super quick so you wouldn't have to worry about the battery at all. In just one hour, the battery could reach 80% of charge.
All in all, Keeping the classy look of the Fossil Q and adding more technology including the heart rate monitoring, the Fossil Q Venture HR could easily be said to have it all.
PROS
Elegant design
Interchangeable straps
Fast charging
CONS
Battery life isn't great
Could be more compact
5. Apple Watch 3 – Best Value Smartwatch for iPhone Users
The gold-aluminum chassis and the Ion-X glass makes the watch solid and durable.
The Apple Watch Series 3 has heart-rate monitoring and general activity tracking.
It logs the number of steps you've taken, the distance you've walked, the calories you've burned, and the floors you've climbed.
It is water-resistant up to 165 feet (5 ATM), which means you can swim in a pool or sea or even take showers without having to take it off.
It also displays call, text, and calendar notifications so that you never miss out on anything.
The Apple Watch Series 3 works with all carriers (except Verizon) thanks to its built-in SIM card. It provides you with 16 GB of storage which enables it to have onboard music and a display that is 1.3 inches with 340 x 272-pixel resolution.
Widgets are available on the customizable face, and connectivity options are satisfactory with the GPS and the 4G LTE (special edition). You can also use your Apple Watch Series 3 to make online payments.
Its battery life is subpar compared to rivals as it only lasts about 18 hours on a single charge.
All in all, the Apple Watch Series 3 is one of the high-budget options on this list, it has what we can consider a preview of the features available on the Series 4 but at a lower price.
PROS
Visibility and brightness of the screen
Sleek and stylish design
CONS
Compatible only with iOS devices
Siri isn't very functional
4G model is quite pricey
6. Fitbit Ionic – An Excellent Waterproof Smartwatch in 2020
From step-counting, calories burned, floors climbed, to sleep tracking with sleep stages, the Fitbit Ionic seems to have it all.
When it comes to fitness features, the Fitbit Ionic is equipped with many. SmartTrack and multi-sport tracking work together to detect and log different kinds of activity. It has reminders for you to move, and reach an hourly goal of 250 steps. It also has heart-rate monitoring and Cardio Fitness Level to watch over your heart's activity and health.
The personalized on-screen coaching provides you with motivation and teaches you the proper techniques of all the exercises.
Being swim-proof gives you the freedom to swim or take showers without having to take your Ionic off.
Moreover, when it comes to smart features, you'll thoroughly enjoy the ones on the Fitbit Ionic. It allows you to receive call and text notifications as well as respond to them via the Quick Replies feature. It also sends you calendar alerts to remind you of any events or appointments you have planned ahead.
You can store and control your music on the Fitbit Ionic, as well as make online payments through it.
Its color LCD touchscreen provides you with 17 different customizable clock faces.
It's supposed to function for 5 days on a single charge, but that number of days could be less depending on the use of GPS services.
Our Thoughts:
To be frank, the Fitbit Ionic seems like a great choice until you compare it to the Versa which offers more or less the same features but at a much lower price tag. The only advantage it has over the Versa is that it has built-in GPS.
PROS
Bright display
Various fitness options
CONS
Relatively slow interface
The choice of apps isn't as extensive
7. Huawei Watch 2 – Best Android Smartwatch to Buy in 2020
The Huawei Watch 2 is a pretty affordable choice for a smartwatch. It has heart-rate monitoring functions that include 5 ranges to track the intensity of activities.
The real-time coaching guides you through your workout and evaluates your performance and recovery, as well as motivates you to reach your goals.
It's equipped with a TruSleep feature that logs the duration of your sleep stages: Light, deep, and REM.
The dual-positioning system (built-in GPS and GLONASS) gives you an accurate tracking of your runs and facilitates your navigation.
The independent storage enables you to store an listen to your music without needing your phone, while the NFC technology allows you to make payments through Android Pay. The Huawei Watch 2 also delivers on-screen notifications of your calls, texts, and other apps.
The 3 modes of the watch offer 3 different battery lives: 3 weeks on watch mode, 2 days on smart power saving, and 7 hours on GPS mode.
Final words, The Snapdragon Wear 2100 processor on both the Huawei Watch 2 models enables it to provide you with the various functions smoothly and effectively. It's a good purchase, although it can't be considered an investment.
PROS
Watch mode extends the battery life to 3 weeks
4G model available
CONS
Inaccurate sensors
Crown fails to rotate
8. Samsung Gear Sport – Best Budget Smartwatch 2020
The Samsung Gear Sport tracks your activity with both a heart rate sensor and a GPS mapping. It keeps your calorie balance in check, weight management, nutrient balance as well as your overall daily progress. You can set personal goals and get the motivation to reach them consistently. This includes calorie tracking and monitoring your intake.It has personalized coaching so you get tips and advice on how to perform your workouts correctly, right from your wrist. You can take showers, go out in the rain, or hope in the shower without taking your Gear Sport off as it is water-resistant up to 50 meters. This also gives it an advantage of having swim-tracking including stroke type, lap time, and pace.With a turn of the watch's bezel, you can control all of the paired smart devices that are compatible with it. This includes lights, door locks, and TVs as long as they are connected to the same Smart Things Hub or Samsung Connect Home WiFi Router. It also allows you to check your updates, review your calendar, and receive and reply to calls and text without having to take your phone out.The integrated NFC compatibility allows you to make payments through Samsung Pay.With the variety of apps that are available for the Samsung Gear Sport, you'll be able to do everything you need: Catch rides, check scores, and download and play your favorite music from Spotify.The wireless charging dock is an easy way to recharge your Samsung Gear Sport, which you might have to use frequently because the battery life isn't particularly the longest, lasting about 2 to 3 days.It is compatible with Android devices (4.4 and above) and iOS devices (9.0 and above), although some of the features aren't available for iOS devices whereas all of them work when paired to an Android device.
The Samsung Gear Sport is a pretty solid smartwatch that has a nice sleek design and useful water-resisting features. It's good for someone who's looking for an average watch with an average price, nothing too luxurious.
PROS
Unlimited Spotify music.
GPS feature.
Sleek design.
Samsung health and its features.
CONS
Short battery life.
Exercise tracking isn't the best.
9. Samsung Gear S3 – Best GPS Smartwatch for 2020
The Gear S3 is extremely durable as it has passed military specifications (MIL-STD-810G) testing against tough conditions like being dropped from a 4.9-feet height, extreme temperatures, dust, shock, vibration, different pressures and altitudes. Based on the IP68 rating, it's also water and dust resistant.
The built-in GPS enables you to share your location in real-time.
By connecting it to Bluetooth, you will receive your texts, e-mails, and alerts, while the built-in microphone and speaker allow you to make and answer calls through your smartwatch.
Samsung Pay feature spares you the hassle of paper money as you can make payments through your watch. By rotating the bezel, you can access apps and notifications.
On a single wireless charge, your Gear S3 will give you about 2-3 days of battery life.
Final words, the S3 performance is fast and durable and its design is pretty great. Indeed, its sensors could be improved and the choice of apps is limited, but it's generally a good medium-budget choice.
PROS
The display is always on
The rotating bezel is a nice twist
Extremely durable
CONS
Activity tracking can sometimes be inaccurate
Not many apps available
10. TicWatch Pro – A Good Smartwatch to Buy In 2020
The TicWatch Pro has a steps and calories counter and a heart-rate monitor to keep track of your activity and fitness throughout the day.
It has two modes available: Smart and Essential.
This enables it to optimize your battery usage, and you can enable Auto Switch into Essential Mode to extend your battery life when you're running low on charge.
The battery life ranges from 2 to 30 days.
This is because of the Layered Display technology and the 2 available modes. Essential mode gives you around 5 extra days of battery life while if Smart mode is on with GPS tracking, it reduces the battery life to about 10 hours.
You can forget about swiping and inserting bank cards, entering PINs, and waiting for approvals because you can make payment with Goole Pay through your TicWatch Pro.
A lot of apps are available to the TicWatch Pro including Google Play Music, Google Fit, and Spotify.
It also has two screens: a high-res AMOLED one or a power-saving FSTN LCD one that extends the battery life up to 30 days.
Its stainless steel bezel and cover, carbon fiber body, and Italian leather straps made it the 2018 iF Design Talent Award winner. You can also choose through hundreds of watch faces to personalize your watch.
Built-in Google Assistant enables voice commands like sending texts, making calls, and checking for directions (only available for Android).
Our Thoughts:​The TicWatch Pro puts so much effort into an area that is usually overlooked by smartwatch manufacturers and that is the battery life. It gives you many options to extend your battery life and make your watch functional for as long as possible.
PROS
Superb screen technology
Great design
Essential mode extends battery life
CONS
Smart mode's battery life is quite short
No LTE version
11. LG Watch Style – An Excellent Lightweight Smartwatch
The brilliance of the LG Watch Style goes more than just skin deep. Beneath the silver or rose-gold titanium exterior lies a group of innovative technologies. You can easily pair the LG Watch Style with any Android or iOS smartphone with the easy-to-setup Bluetooth and WiFi. Pairing it with outfits is also easy as it has swappable bands. You also get Google Now voice activation, which makes operating the watch as simple as it could be.You can set fitness goals on your LG Watch Style to challenge yourself to achieve better results. Its frame is dust and water-resistant, so it's pretty durable. It's only IP67-certified, which means that you can't take it swimming or diving.Its 1.2 full circle P-OLED display boasts a 360 x 360 resolution (299 PPI).The LG Watch Style relies a lot on –as you guessed it- its stylish look and nice design. It does lack a lot of features that might be available on other smartwatches like heart rate monitoring, GPS, and NFC for online payments. Which is a bit weird when you look at its 1-day battery life. Despite all of this, it would still look great on your wrist, especially if you have small wrists. It's also available for quite an affordable price.
With WearOS, great looks, thinner dimensions, and good performance at an affordable price, the LG Watch Style will enable you to take some freedom from your phone and surely satisfy you.
PROS
Subtle and simple design.
Lightweight and comfortable.
Reasonably priced.
Responsive apps.
CONS
Poor battery life.
Lacks Google Pay.
12. Polar M600 – Best Waterproof Smartwatch in 2020
Running on Wear 2.0 smartwatch OS, there is little that the Polar M600 can't do. It has a Polar wrist-based heart rate monitoring feature that is specially optimized for it. Tighten the band and you're good to go.The touchscreen is colorful and fun to navigate through. There are also 2 buttons for quick control during training in case your fingertips are too sweaty to manage the touchscreen, which is a very clever addition that a lot of fitness trackers overlook.Advanced Polar training features deliver 24/7 activity tracking, while personalized coaching delivers guidance and feedback on your exercises. With the Polar M600, you can track your workouts, all-day activity, steps, distance, calories burned, and sleep. This even includes laps in the pool with the swimming metrics thanks to the Polar M600 being waterproof.With the built-in GPS and GLONASS features, you can track your speed, distance, and the route of your walk or run. You also get 4GB of onboard storage that allows you to keep your favorite music and enjoy your tunes with Google Play Music. Through Google Play, you can receive calendar alerts, read and respond to texts, listen to music, receive live weather forecasts, locate yourself on the map, and have access to a variety of apps.You can change the watch faces to match your mood and get a more personalized experience.
A satisfactory blend between a fitness tracker and a smartwatch at an affordable price is what you get when you buy the Polar M600. If you're looking for the top-notch fitness tracking and more durability, you should opt for another smartwatch though.
PROS
Accurate built in GPS.
Comfortable to run with.
Waterproof and strong built.
Great fitness tracking capabilities.
Accurate sensors.
CONS
Not the strongest display in the sunlight.
Poor battery life on iOS platform.
Display quality isn't the best.
13. KingWear KW18 – Best Cheap Smartwatch
The KingWear KW18 has a compact round dial design that can suit both men and women. It's very budget-friendly, but still offers quite a lot of features.The rubber strap is made of dull polished TPU material, it isn't the most durable or classy, but it does the job. The edges are covered by aluminum to provide a degree of protection. The 1.3-inch screen is quite visible and has a good resolution of 240 x 240-pixels. It offers you remote camera operation, delivers notifications for messages and calls, has sleep monitoring, step-counting, heart rate monitoring, and reminders.There are two slots on the left side of the watch for the insertion of a SIM card and a TF card, which isn't something that most smartwatches have. The KingWear KW18 also gives you the freedom to expand your storage. You can go up to 16GB of expansion from the very little 128MB storage space it comes with.You can connect your KingWear KW18 to Android or iOS devices using Bluetooth 4.0. The Bluetooth also operates the anti-lost alarm which is triggered if the Bluetooth-connected device strays further than 10 meters from the location of the smartwatch.Although its battery life is quite average and lasts a few days, its recharging is quite fast as it can reach up to 100% in a space of only 2 hours.
The comfortable design of the KingWear KW18 is the number one reason you should get it. It offers more or less the same features you can get on any average smartwatch at a very affordable price.
PROS
Super cheap for a smartwatch.
Stylish and lightweight design.
Compatible with IOS and Android devices.
Anti-lost alarm.
Sim card slot.
CONS
Average battery capacity.
Does not have many fitness features.
Insufficient packaging.
How To Pick a Good Smartwatch in 2020?
First and foremost, you have to have a budget set for yourself. The prices of smartwatches vary depending on a lot of factors, so after you set your budget, you dive into the features of each and decide which one you consider the most value for the money. How you can decide this is by considering these things:
Compatibility with the device you have
For example, a person with an iOS should definitely opt for an Apple Watch. While someone with an Android phone should go for the Samsung Galaxy Watch. Because the Fitbit is compatible with both, it's a very flexible choice, but for other options, you should check the compatibility of the operating systems.
Display and design
The display size and whether it uses a touchscreen or hard buttons should be something you consider. These two things will greatly determine the degree of your comfort and ease of use of your device. The design should also be appealing and practical to you.
Battery life and charging
Depending on your use, your battery's life could be extended or reduced, but there are averages that you should not turn a blind eye to. Constantly having to recharge your device's battery or having it run out of battery in the middle of the day can be a very great hassle. The battery life should also make sense when considering the features the smartwatch offers (or lacks), as well as its price.
Fitness features
When buying a smartwatch, make sure you have at least satisfactory fitness features. Calories burned, floors climbed, heart-rate monitoring and GPS services should be available. The ability to track multiple activities is a great addition, but it might seem like less of a priority when you're considering a smartwatch.
Technology and smart features
We left the most important for last because it would make sense if your smartwatch were to have a vast array of smart features. This includes the ability to make online payments, connect to different apps and deliver their notifications, store music and deliver text and call notifications (and quick replies).
Final Words: Which Is The Best Smartwatch Overall?
After having gone through the qualities that qualify a smartwatch to be a good purchase, The Fitbit Versa could make more sense to someone that is more concerned with the fitness tracking of a wrist-wearable, and the Apple Watch Series 4 might seem a little overpriced for what it has to offer, so we'd recommend the Samsung Galaxy Watch as it combines all of the aforementioned aspects while coming at a relatively affordable price.